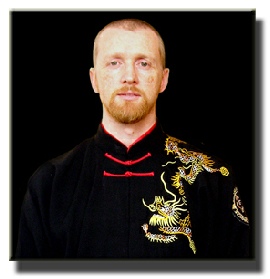 Sifu Neil Brown - Feng Shou TengChi and founder of
Tianlong (Celestial Dragon) Temple Boxing.
Lee style: including Kung Fu, Tai Chi, Sword, Staff, Nunchaku, Knife Defence, Silk, Yoga, Breath Art, Meditation
Perhaps the most influential Eastern martial art that Neil has trained in is the Lee style. From his early teens, Neil attended the late Grandmaster Chee Soo's courses while training in classes taught by John Jordan and then John Stone, within the International Wushu Association. In later years John Stone moved to Australia for some time, where he successfully established some kung fu schools before returning to live in England.
Neil said: "Although John no longer teaches Feng Shou classes, experience has shown he has retained his martial arts capacity, proving that what you put into it through years of hard work, ultimately stays with you for life."
In his early twenties, Neil chose to focus on Western and Eastern meditation practices (which he continues), as well as medieval knight combat reenactment for a period of time, and returned to regular Feng Shou kung fu training in his late twenties, this time under the skilled tutelage of Ted Oxley and one of Chee Soo's personal students Howard Gibbon (East West Taoist Association). It was during this period of training that Howard awarded Neil his 1st Tengchi.

Neil then began running his own club and left the EWTA on good terms with Howard and Ted, due to a deep need to further pursue his love of other aspects of kung fu, such as stick work and Jeet Kune Do principles - in addition to continuing with his regular practice and teaching of Feng Shou.
During this time, Neil corresponded with former World Champion Darryl Cross (Fung Yang Sau Kung Fu Association) in Wales and joined his association for two years, while continuing to run his own club in England. Neil describes Darryl as "Probably one of the best examples of modern day kung fu fighters in the world, who took his art into the arena in China and proved its effectiveness beyond all doubt." Darryl provided Neil with deeper insight into his own kung fu, demonstrated great generosity, and gave Neil some of the most important martial arts advice of his life: "Be true to your kung fu!" before they parted ways.
Now after years of blending the primary underlying principles and techniques of Feng Shou and Jeet Kune Do, through practice, application, exploration and reflection, Neil's kung fu has naturally resulted in a new viewpoint. The essence of this has crystalised in the form of Celestial Dragon Temple Boxing, which Neil has established and continues to develop.
Neil also taught and graded students in Feng Shou and remains in contact with his friend and former class teacher 5th Tengchi Ted Oxley (Head of Chinese Arts Lee Style) who awarded Neil his 2nd and 3rd Tengchi grades.
Neil describes Ted as being "Gifted in all aspects of the Lee style taught by Chee Soo, a man of great integrity in his practice, application and teaching of the arts, and is a person who has unceasingly demonstrated true friendship." (Watch this space for a transcript of a recent interview with Ted Oxley).

CelestialDragonTemple.com and practitioners of Celestial Dragon Temple Boxing, and Feng Shou, promote meditation and martial arts for self defence, and do not support in any way the actions of individuals or groups of any kind inimical and dangerous to society and the welfare of mankind.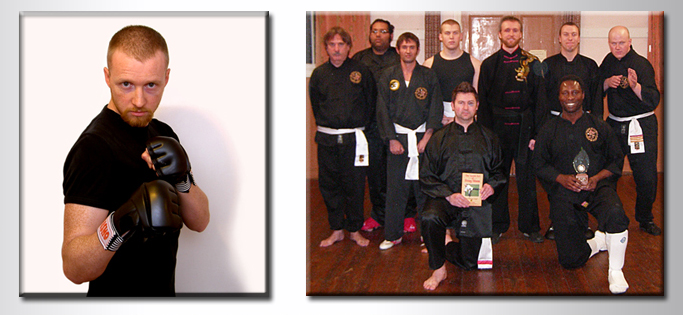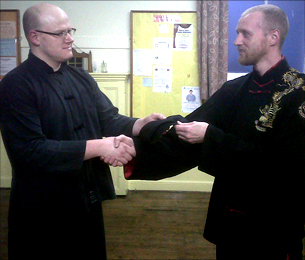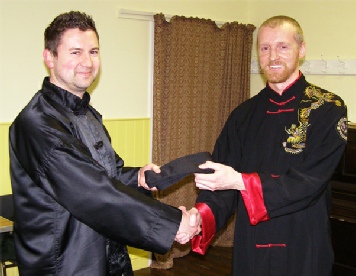 Black Sash instructor grade awarded to Gary Bielby by Neil Brown
Gary went on to run the Beverley-based club in East Yorkshire when Neil opened clubs in North Yorkshire.
Black Sash instructor grade awarded to Damien Oakes by Neil Brown
Damien also assisted Gary in the running of the Beverley club.
"Valour, Honour, Compassion, Justice"
Please note: Sifu Neil Brown is not currently taking on new students.
Contact email: contact@tianlongtemple.com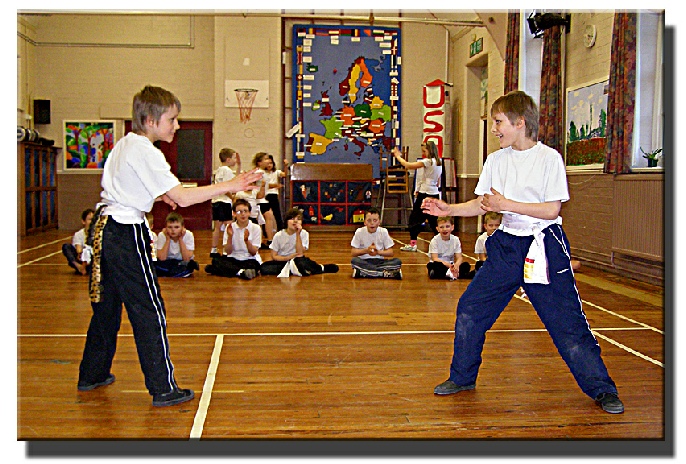 The above video features: Feng Shou (Hand of the Wind) rollaways from a few years back, featuring Ted Oxley (3rd TengChi grade at that time) and Neil Brown (1st TengChi grade at that time).
Neil Brown – Martial Arts Background
Boxing
Neil's first introduction to martial arts for self defence was through his father teaching him the basics of boxing.
Judo and Karate
Neil also attended judo and Wado Ryu karate classes at an early age, which served as a good introduction to Eastern martial arts and its application in sparring.
Jiu Jitsu and Aspects of Jeet Kune Do
Although Neil started practicing Feng Shou kung fu in his early teens, he also attended weekly classes in Jiu Jitsu, focusing also on aspects of Jeet Kune Do and Nunchaku, under the tuition of Kevin Low. So even then, a pattern involving the practice of more than one martial art was emerging. During that time, Neil won the Humberside County Jiu Jitsu Championships, in two sections – Kick/Punch sparring, and also in Back to Back (ground-level fighting), which was a good note to end on before Neil went away to study at Art College at 19.

Additional Jeet Kune Do seminars/training sessions attended include training with Tommy Gong and Tommy Caruthers in London.
Medieval Swordplay
Focusing now on his Western roots, in his spare time Neil's interest in the medieval knight and the 'age of chivalry' found expression when he became a member of The Golden Lions of England medieval reenactment society. After learning traditional combat techniques, primarily with the sword, Neil took part in medieval reenactments in York and at Warwick castle - focusing around Henry VIII and the knights of the Order of the Garter (whose patron saint is Saint George).
"It was great fun," Neil recalls, "and it provided an interesting angle on the study of martial arts.
"This prompted me into the consideration of (in addition to the kung fu classes) creating a medieval re-enactment group." See www.grailknights.co.uk for more details.